I don't like zombies, but I like that you like them, because it lets me know what I can draw that you will probably pay for. Maybe not you. Maybe your twelve-year-old nephew.
If I knew what else was popular, I'd draw that too. I'm suffering through the Walking Dead right now, which is the first show I've ever watched all the way through that was as bad as I thought it was going to be. As far as I can tell that show has absolutely nothing going for it but the fact that it is the world's longest zombie movie. We really love apocalypse procedurals, but they're damn hard to do. The Walking Dead is the closest to good that we have, and it's really far.
Mirrored from Radio Free North Hollywood.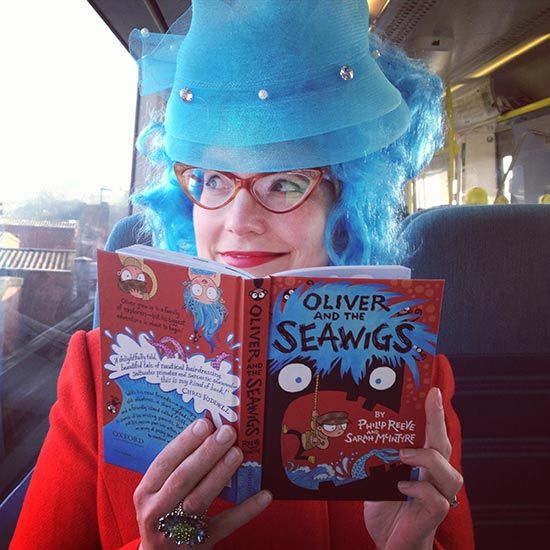 Last year
, Booktrust held the ceremony at the Unicorn Theatre, but this year, we got to hold it on the amazing stage set at the Cambridge Theatre for the
Matilda
musical. Very appropriate! Here's former Children's Laureate
Michael Rosen
giving the introduction. (You can see earlier photos from our
Judges' Meeting here
.)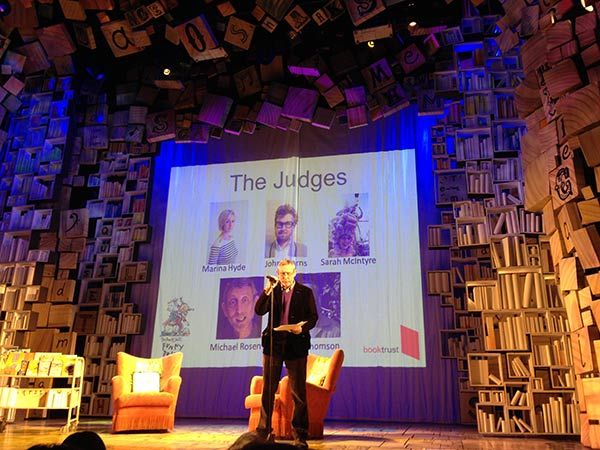 This photo's by
Mike Richards
and I apologise to any people sitting behind my enormous hair.
Here we go, all the shortlisted writers and illustrators! Let's see, I might need some help here identifying them all. In the chair on the left is
Michael Rosen
and
Philip Ardagh
(
The Grunts All at Sea
), and from left:
Pete Johnson
(
My Parents are Out of Control
,
Jim Smith
(
I am Still Not a Loser
),
Mark Chambers
(
Noisy Bottoms
),
Holly Smale
(
Geek Girl
,
Simon Rickerty
(
Monkey Nuts
,
Jamie Smart
(
The DFC Library: Fish-Head Steve
),
Elys Dolan
(
Weasels
),
Lee Wildish
&
Charlotte Guillaine
&
Adam Guillaine
(
Spaghetti with the Yeti
), in the right armchair:
Sara Ogilvie
&
Amy Sparkes
(
Do Not Enter the Monster Zoo!
) and on the floor from left:
Mark Lowery
(
Pants are Everything
),
Axel Scheffler
(
The Grunts All at Sea
),
Leigh Hodgikinson
(
Troll Swap
). You can find out more about all of these fine folk and their books over
on the Booktrust awards page
.
(
Click here for more under the cut!
Collapse
)
Going as a judge to the Roald Dahl Funny Prize was a perfect excuse to dress up like a loony. But a perfectly colour-coordinated loony!
Murder One: A Writer's Guide to Homicide, by Mauro V. Corvasce and Joseph R. Paglino. It's.... okay? Kind of disappointing after reading John Douglas, and OH BOY did they ever get depression wrong. It's not
boredom,
jerks, it's the inability to enjoy things. Fuck you. Still, it's set up for writers and it's usually close to right, so.
Dreaming of You, by Lisa Kleypas, which is... not really romantic now that I'm an adult and know about respect and stuff but I have to admit I still love it.
What are you currently reading?
SO much stuff. From last week, I'm still reading: The Women's Room by Marilyn French, Dante's Purgatorio, The Tenant of Wildfell Hall by Anne Bronte, The Borgias by GJ Meyer, The Book That Changed My Life, Princess of the Silver Woods by Jessica Day George, Catching Fire, Isabel Allende's House of the Spirits, The Stranger Beside Me by Ann Rule, Fingersmith by Sarah Waters, Possession by A.S. Byatt, Native Tongue by Suzette Haden Elgin, Stephanie Burgis's Kat, Incorrigable for the nth time, and Alanna: The First Adventure.
Because I'm easily distractable, I'm also reading The Book of Abigail and John (edited letters of John and Abigail Adams) and The Storytelling Animal by Jonathan Gottschall, which-- WHERE WAS THIS BOOK when I was writing my graduation contract? I needed it. Alas.
What do you think you'll read next?
God only knows. No, really. I have NO idea. Let's just work on finishing these first.
This entry is crossposted at
http://bookblather.dreamwidth.org/229909.html
. Please comment over there if possible.
What did you recently finish reading?
Leroy asked me an unusually pertinent question this morning. He asked "how do I stay on the good side of all this biblical infighting so I can avoid waking up dead one day?"
I had just spent the night at the Imago Dei warming center on Monday night, one of the places where a staff member did indeed drop dead shortly after my first (unfruitful) visit there, back during the first go around with the King James where it instructed me to ask for lodging, and if I was refused, to shake the dust off my shoes at them to show God's unhappiness. This happened a few times, and God's angry reaction was enough to make me cut down significantly on when and where I would shake dust off my shoes at folks. I still obviously have shoes though.
So I was explaining this to Leroy how when I got to Imago Dei on Monday they recognized me and may have wondered how many of their staff were going to die this time.
At the end of November I was given biblical instructions to avoid Jefferts Schorri's little sect while they were being dealt with, this was the section in which Ba
byl
on was described as "she", because Katherine Jefferts Schorri is more akin to William Jefferson Clinton than to some stinky fert person like folks once mistakenly thought. On Thanksgiving night I followed those instructions, and waited outside in the cold after closing down the grocery store with my Native American friend Lawrence. Leftovers from elsewhere the next day were good enough. I was only too pleased to be able to understand the instructions in the first place, and the Episcopals have left us out in the cold so many nights that I was used to it. Happy holidays.
Remember Chiara Thayer? Madeleine the spy lady from 2011 showed up ranting about Chiara Thayer? My bartender from the year of the post-mortem depression? I like Chiara but sometimes people associate her name with the period in which I was given lethal doses of alcohol, a very raw deal, and an ethnic cleansing campaign. Madeleine the spy lady thought she could get some miles out of me riding an anti-Chiara train but really it just exposed that
M. the spy lady
had her own weird agenda. I find names like Chiara's all the time with the Episcopals among others.
I got this in the mail recently:
A pastoral note: Pat Thayer, one of our long-time members and a pillar at St. David's, suffered a stroke the Wednesday before Thanksgiving. After several days in the hospital, she is at home recovering well under the care of several family members. Pat is not up to receiving any visitors, but asks for our prayers and would be happy to receive notes.
Leroy, I would love to help you, I would love it if you could keep waking up alive in the mornings and so let me repeat my response from this morning.
Your employer at the Episcopal Church has to figure out that I am the real deal and that I needed real life assistance starting a long time ago, before your little Facebook scam, before I lost all my belongings, before you had people casing me through the neighborhood, before every lie ever told about Me once you guys knew who I was.
That is the best information I have on the subject. Pretty much all of Christianity is on notice about this, so it's more than just one little frontier Episcopal outpost on the line, but Leroy was the one that asked in person this morning, and the tea and gloves were very nice, so I figured I could respond.
If the service God provides includes a heavy temporal element, and you, like Pope Benedict and others, are offended by this, even though your bible clearly states that one day for us is like a thousand years for the author, then what happens when God hears this complaint, and removes the temporal services?
What? You never got your notice that the train was going to crash? What's your problem?
Am I still in a public library surrounded by dubious strangers? What's your problem?
It seems pretty clear the guy making animal noises at me today from over at station 5 is at least the partial basis for Jabba the Hutt. He's followed me to St. David's before, and is clearly hostile. Does guy at station 5 know what happens to Jabba the Hutt before this is done?
(P.S. Does anyone recognize Brijet's bra from 1999 in this scene or what? Had to be there?)
Mike Monaco was the metalhead kid on the bus in 6th grade. He liked a lot of bands including Billy Squier. I have reason to remember the bus in 6th grade sometimes.
I have a family with the following names for the ladies: Summer, Lily, and Dawn. I think y'all can sense a pattern here. But I need another one, for reasons. HELP ME OUT, Y'ALL. My brain is rejecting my own ideas.
Willow, maybe? Or does that overlap with Lily too much? HELP.
eta: will catch up on December meme tomorrow (Wed 11th). Had no internet on the 9th and spent today recovering from having no internet on the 9th and also writing blowjob lessons. It, um. Apparently I have psychological meltdowns when I lose access to the internet? IDEK.
eta2: Pearl? Heather (overlap again!)? Not Amber for reasons. Gemma?
This entry is crossposted at
http://bookblather.dreamwidth.org/229638.html
. Please comment over there if possible.
Ok hi I have a question.
HAVE SUBMITTED MY SEMINAR PAPER DRAFT STOP HAVE WRITTEN ALL TWENTY PAGES OF SEMINAR PAPER (TWENTY PAGES IN TINY FONT THOUGH) SINCE 8:00 PM SUNDAY STOP FAIL ALL THE WAY STOP AND YET I HAVE MORE OR LESS COMPLETED SOMETHING THAT RESEMBLES A PAPER SO I DECLARE THAT A WIN STOP NOW ALL THE SLEEEEEEEEP
The Black Count: Glory, Revolution, Betrayal, and the Real Count of Monte Cristo
by Tom Reiss which is a pretty amazing book about General Alex Dumas, the son of a French count and one of his slaves who was born in Saint-Domingue (what's now Haiti) who rose to become one of the most powerful men in the French army before being screwed over by Napoleon.
He also is the father of someone you might have heard of: Alexandre Dumas, author of
The Three Musketeers
and, shockingly,
The Count of Monte Cristo
.
A good percentage of the first part of the book is "did I mention Dumas was hot? because he was totally hot, like everyone thought so" which, haha, thanks for that, Reiss. ...No, seriously, my favorite section so far has been the part where Napoleon gets pissy because Dumas is hotter than him and everyone knows it:
When they were still both generals in the French Revolution, Napoleon celebrated Alex Dumas's deeds in the classical terms favored at the time, proclaiming him the incarnation of Horatius Cocles, the ancient hero who saved the Roman Republic by keeping invading barbarians from crossing the Tiber. (French revolutionaries, like American ones, lived in a world of classical allusions—everyone referred to George Washington as Cincinnatus.)
When Napoleon launched the French invasion of Egypt, Dumas went as his cavalry commander, but it was there that the two very different soldiers came to loathe each other. The clash was ideological—Dumas saw himself as a fighter for world liberation, not world domination—but it was also personal.
"Among the Muslims, men from every class who were able to catch sight of General Bonaparte were struck by how short and skinny he was," wrote the chief medical officer of the expedition. "The one, among our generals, whose appearance struck them more was…the General-in-Chief of the cavalry, Dumas. Man of color, and by his figure looking like a centaur, when they saw him ride his horse over the trenches, going to ransom prisoners, all of them believed that he was the leader of the expedition."
Of course, Dumas, while brilliant at military strategy, does not seem to have known how to do politics at ALL, judging by his letters to Bonaparte during the Italy campaign. Oh, at first he is pretty smooth, sending Bonaparte letters that are pretty much "sir, sir! I am sure you will be SHOCKED to discover there is corruption in your army!"
But then you get letters like this one, after Dumas pretty much wins the Siege of Mantua singlehandedly (he has two horse shot underneath him, and leads his ragged band of six hundred men against a stronghold that has been besieged for quite some time and is also in the ALPS) and gets offended when he's not recognized for his efforts:

January 18, 1797,
GENERAL,

I have learned that the jack ass whose business it is to report to you upon the battle of the 27th [the 27 Nivose, i.e., January 16] stated that I stayed in observation throughout that battle. I don't wish any such observation on him, since he would have shit his pants.

Salute and Brotherhood!
ALEX. DUMAS

...Yeah, the 'jack ass' in question was General Berthier, Napoleon's right-hand man who'd later become his chief of staff.

That was....not a good idea, Dumas.......... I am beginning to see why you did not endear yourself to Napoleon.
Mostly due to the fact that I'm in the middle of reading